An intriguing forget-me-not aspect of most weddings, after the bride's dress, the couple's first dance or kiss is definitely the wedding cake.
In Nigerian culture, the act of cutting the cake solidifies the union between the couple, as a display of affection is executed when the groom feeds the bride and the bride feeds the groom. Their togetherness is reaffirmed, symbolizing the beginning of a new journey for them as 1!
Traditionally, the cake symbolizes a number of things, from the colour on the outside layer down to the mixture within. Topics of wealth, good fortune, fertility and purity are all but a few in the long list of requirements a couple considers before making a final decision on what cake to choose.
Most wedding cakes vary from 2 to 7 tiers in size, with layers that may differ in width – but the bigger the bottom base, the better!
This seven-tier cake at Tola and Dele's wedding by Elizabeth's Cake Emporiumwas a nod to the seven years of the couple's relationship, and each tier showed a different stage of their love.
As with photography, makeup and tailoring,  the art of cake making requires a certain type of 21st century finesse to create a mind-blowing, unique and desirable cake that will make you want to career hop or relive your wedding day over and over again.
Some couples even opt for multiple cakes! Like designer Ewemade of Shakara Couture and Bode at their musical wedding.
What happens to the wedding cake after the wedding?It is but a mystery as to what exactly happens to the cake after all this effort. Many couples freeze the cake and share a slice on their 1st anniversary, others share it on the day, while some leave it as a decor piece during the reception, then divvy it up among the bride and groom's family after.
Back to the wedding day, with all these intricate details in place, the most inspirational element of each cake design are the untold stories behind them and most importantly, the way they look!
This beautiful white and silver topped cake for Ezinne and Uchenna Texas wedding is just the beginning!
1. Firstly, white or ivory with gold detail, this cake was made by Santis Cake Creation for Anuli and Ifeanyi wedding ceremony, it's a perfect mix of traditional wedding cake glam.
Here's another beautiful gold cake by Andy Clark Cakes featured at Megan andEkene's spectacular wedding in Lagos.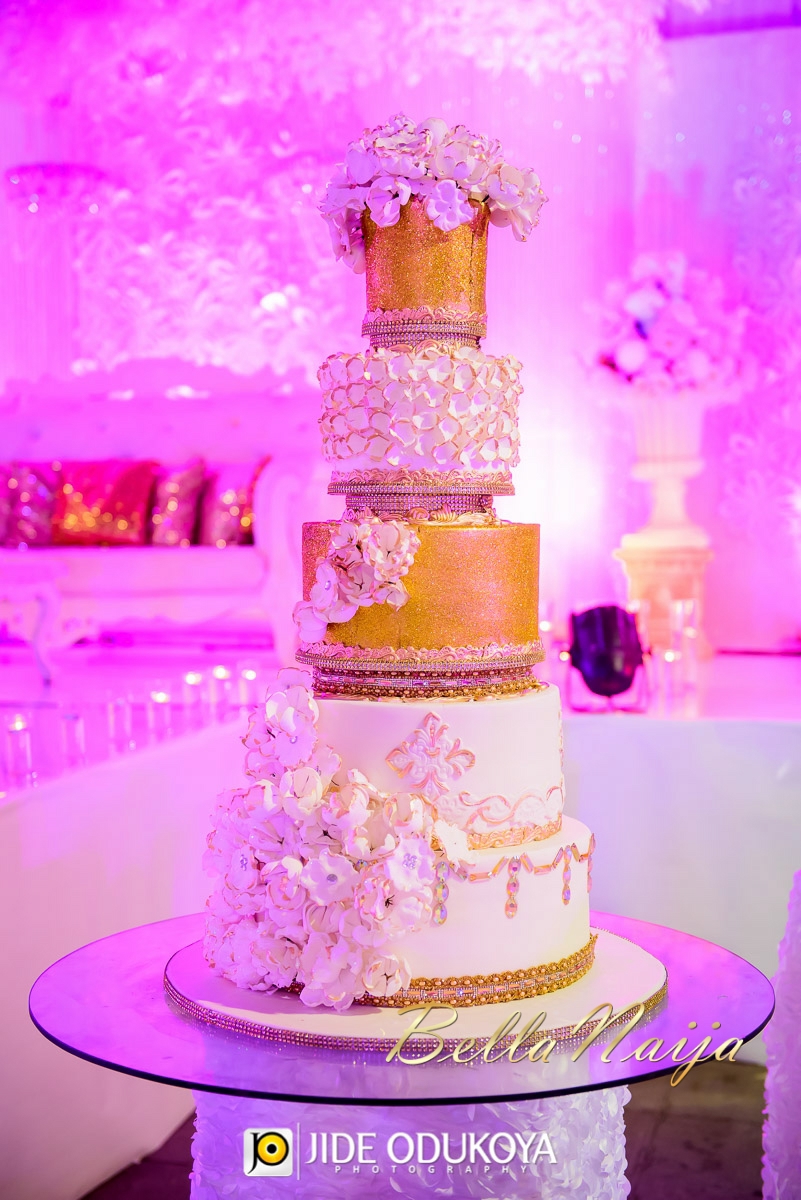 2. Personalized cake toppers or fondant figures are a big hit! maggie andLionel had a cute fondant figure of themselves and their initials on their cake byThe Cake World UK.
3. Couples names/initials. Just like the cake above, with the couple's initials, many opt to have their names or initials on their cake. Here's a white cake with ombre hearts, at the 1st ever Bliss Wedding Experience by Mövenpick Ambassador Hotel.
4. Traditional-inspired cakes. Usually for the engagement/traditional wedding, the cakes have elements like chests, coral beads, palm wine gourds or figures of the bride and groom in their traditional wear.
5. Statement or centre-piece decor wedding cakes, this grand gesture is byIvel Cakes at Dami and Ayo's ATL wedding.
The extended round tier design, ascending in size this stunning 9-tier artwork byG Cakes Couture was featured at the wedding of  Grosvenor House wedding ofRuby and Dipo.
6. Colour coordinated or two-toned
7. Squared or a replica of a gift box/package was the option chosen by pectra and emmanuel at their wedding, cake by Edet Okon.
8. And lastly, the wow!wow!WOW! factor cake, that has a little bit of everything, height, colour, elegance, a touch of floral and definitely a statement piece of decor goodness, Tolu and Gbenga magical wedding went all out with this one, cake by Tiny Little Cakes.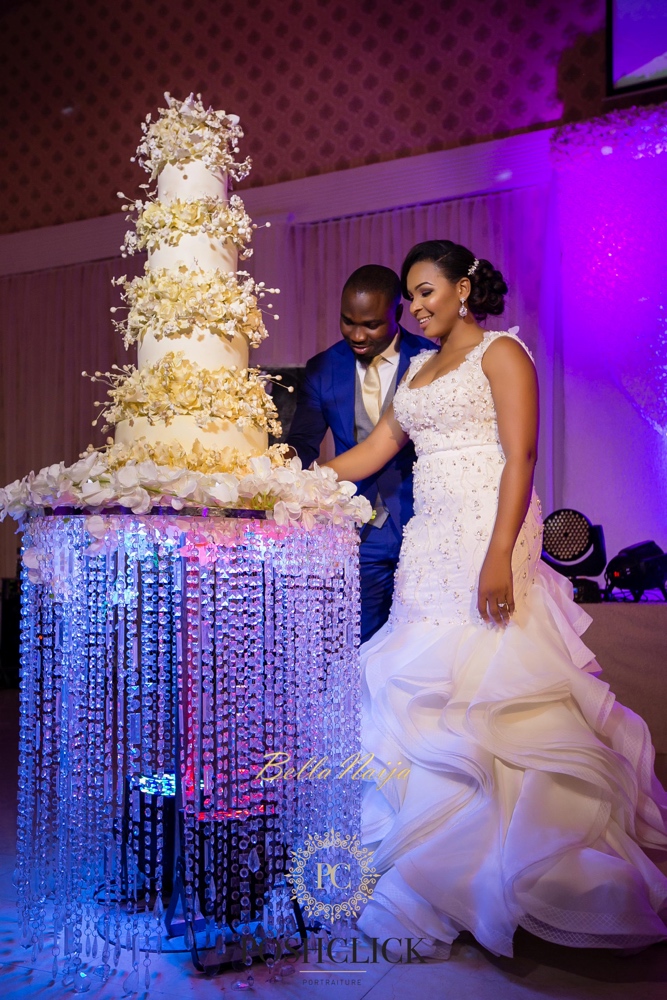 I hope you enjoyed the traditional, conventional & breathtaking cake designs